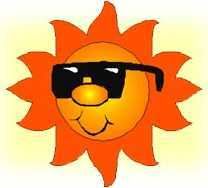 Today's T-T-A question is: What do you remember about Childhood Summers? Friends, Vactations, Activities.

The first thing that came to mind was going to visit my grandparents. My mom's parents
(Grandmom and Granddad--my mom's stepdad) lived in Kanab, Utah. They owned a restaurant called "The Territorial Inn." It was a steak and seafood restaurant and it was so good. When we went there we always got to eat at the restaurant. Some of my favorites were steak bites, cheese soup and salad with bleu cheese dressing. We were able to help her out in the restaurant by setting the tables and getting it ready for dinner. We would also get order pads and pretend to take orders. It was a lot of fun. When my Grandmom died of cancer about 18 years ago, my Granddad sold the restaurant. He didn't want to do it anymore because it was there thing that they did together.

My dad's parents lived in Montana in a town called Fortine. It is clear up by the Canadian Border. We used to go there in the summer also. We had a couple of family reunions there. My dad is #6 of 13 children and so it was really fun getting everyone together. While there we would always go into Canada and get some toffee and dill pickle chips. They were so good. My grandpa would also hide quarters in sawdust and all the grandkids would go digging in the sawdust to find the quarters.

During the summer my friends and I would also walk to Circle K and buy candy. We also would have sleep overs and sleep in the front yard in sleeping bags. I also remember walking to 7 Eleven with my family a couple times to buy slurpees. I also played a lot with my friends. We would play Superman, Wonderwoman, Charlies Angels. Another thing we also use to play was Barbara Mandrell and the Mandrell sisters. My parents had a rock fireplace and we used the rocks as our weather map. My friend Stephanie was always Irlene. I was Louise and my sister Mindy was Barbara. Or maybe it was the other way around. It was fun. I remember walking to Woodledge Park and playing. Those were the good ole days!