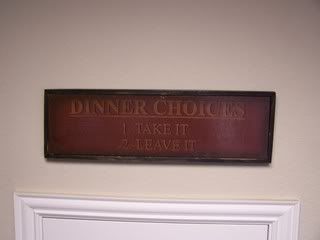 I came across this on another blog and I thought it looked like a lot of fun. I really want to get everyone to participate because the more people that participate the more recipes that we will end up with. So what you do is post 2 recipes. I found 2 recipes, one that I have made and one that I want to try. The first one is "Super Simple Egg Foo Young." I made this for my family a couple of weeks ago and it was really good. My family liked it also. The second recipe is "Cinnamon Crisp-Topped Cream Cheese Banana Bread." I have not tried this recipe but it looks good and I want to try it. So here are the recipes!

Super Simple Egg Foo Young

1 Pkg Rice-A-Roni "Fried Rice"
6 eggs
1 T. Soy Sauce
1/2 t. Salt
dash of pepper
1 (16 oz) can bean sprouts, drained
1/4 C. sliced green onion

Prepare Rice-A-Roni according to package directions. Beat eggs with Soy Sauce, salt and pepper. Stir in cooked Rice-A-Roni, sprouts and onion. Drop mixture by 1/2 cupfuls onto greased pan or griddle. Brown on each side.

To make sauce, combine in pan
2 T. cornstarch
2T. Soy Sauce
2 cups of water

Cook until thick. Serve over Egg Foo Young.

Cinnamon Crisp-Topped Cream Cheese Banana Bread

3/4 C. butter softened
1(8 oz.) pkg cream cheese, softened
2 C. sugar
2 large eggs
3 cups All-Purpose flour
1/2 t. each baking powder, baking soda, and salt
1 1/2 cups mashed potatoes
1 C. chopped pecans, toasted
1/2 t. vanilla extract

Topping
1/2 C. firmly packed brown sugar
1/2 C. chopped, toasted pecans
1 T. All-Purpose flour
1 T. melted butter
1/8 t. ground cinnamon

Preperation
Beat butter and cream cheese at medium speed with an electric mixer until creamy. Gradually add sugar, beating until light and fluffy. Combine flour, baking powder, baking soda and salt; gradually add to butter mixture, beating at low speed until blended. Stir in bananas, pecans, vanilla, and mashed potatoes. Pour into 2 greased and floured 8x4 inch loaf pans. Sprinkle with combined topping.
Bake at 350 degrees for 1 hour or until a wooden toothpick inserted in center comes our clean and sides pull away from the pan shielding with aluminum foil last 15 minutes to prevent browing if necessary. Cool bread in pans on wire rack for 10 minutes. Remove from pans and cool 30 minutes on wire racks before slicing.


I was tagged by my cousin Ruth so here goes:

10 years ago I was working at a gas station, attending school at UVSC, being set up on blind dates and wondering if I would ever meet "Mr. Right"

Five Places I have visited:
1. Kentucky--I don't know if this counts because it was more than a visit. I served a mission there. I also served in Indiana and Ohio. I was there for 18 months.
2. Texas--Our family (my mom and dad, brothers and sisters) went there the summer after my 8th or 9th grade year to visit relatives on my mom's side.
3. Mexico--We stopped by when we went to Texas
4. Canada--We always went here when we went to Montana. We would just go across the border. It was a lot of fun. I love their toffee and their dill pickle potato chips.
5. California--I have been here twice. Once to visit one of my missionary companions and once after Jake got home from his mission. I went to Disneyland both times and had a blast!

Five things on my TO DO LIST:
1. Take Emma and Reagan to the Doctor
2. Finish Reading my book for Book Club
3. Make flower pens for my Scentsy Open House at Jamies
4. Clean my house
5. Get uninterrupted sleep tonight!

Three bad habits:
1. My Caffiene habit--something that may be hard to kick when I am pregnant with #4. I love my Diet Coke with Lime.
2. Staying in my Pajamas, sometimes all day long
3. Spending too much time on the computer

Five things you may not know about me:
1. I can't sleep without my body pillow
2. I love carmex but I only wear it at night right before going to bed
3. I was hit by a car on my mission.
4. I love to read, make cards, and do other crafts
5. I love to host parties and try to get free stuff!

Ok. So now on to life in general. Right now I am surprised that I am not falling asleep at this computer as I type. I have not had a night of uninterrupted sleep now for 2 nights in a row. Emma has been complaining of her ear hurting. Tuesday night I kept hearing her. She came into my room at 5:00 a.m. and I put her back in bed. Emma and Reagan both slept until 10:45 yesterday morning. Emma ate breakfast and then she fell asleep on the living room couch at 11:30 and slept on and off all day long. Then last night she came into my room every hour starting at 1:30 a.m. I did not get much sleep last night and feel very tired today. When I went to take her back to bed Reagan was awake and she had thrown up. I got her changed and Dave took care of the bedding. I tried to call the on call doctor at 2:00 a.m. and I waited up until 2:30 for him to call me back. No call, so I went back to bed. Of course Emma wasn't done coming into my room every hour. Anyway I am taking them both to the doctor today at 2:00. Hopefully I will get better sleep tonight. Uninterrupted would be nice. I hope Emma is feeling better by tomarrow because she is supposed to get her pictures taken at Kiddie Kandids. Maybe, I'll even get a nap in today!