I recently discovered a blog thanks to Monica's sister Erica called Tuesday Tell All. Every Friday they post a question and then on Tuesday you post your answer to that question. You can be put on their list also. Anyway today's question is:
For what activity would you want professional lessons?
I couldn't just think of one thing I though of three. The first one is because I am a big fan of "Dancing with the Stars" although this season I haven't seen a whole lot of it. I would love to learn how to ballroom dance. I really think it would be fun to take lessons from a professional and learn that form of dancing.


The second activity I would like professional lessons for would be country dancing. I do know some line dances and I kind of know the swing but I would love to take lessons so that I could be better. I love country dancing. I think it is so much fun.


The last thing I would love professional lessons for I don't know if it is really considered an activity but thought I would put it in anyway. That is learning to play the harp. I love the harp and I love it when I hear it being played. I think that it is very beautiful. One of my dreams for the last several years is to learn how to play the harp. Maybe one of these days I'll be able to afford one and then I can start taking lessons.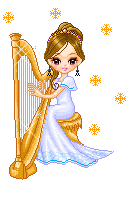 Anyway that's it. I will be doing this every week so watch for the new posts on Tuesday and I will post other things on other days!